Our investment approach is simple: find and execute over-looked, value driven real estate projects in high barrier to entry markets.
We pursue class B to C properties around the University of Texas and Central Austin. By focusing on this small niche, it allows us to exploit both direct market intelligence and the luxury to manage the asset with a hands-on approach. The area has also proved throughout the years to be a strong & stable rental market by staying consistent without being influenced by global macro-economic events that other assets may be effected by.
The Marian Condominiums

___________
Ideally situated, The Marian Condominiums are within walking distance to shopping, dining, and entertainment giving you easy access to the best of what the area has to offer. Being only blocks from West Campus, you can easily walk or bike to UT.
There are one and two bedroom apartments with spacious layouts and amenities from which to choose.
Quarters Condominiums

___________
Ideally located Quarters Condominiums is situated just ONE block from The University of Texas at Austin, and walking distance to famous local eateries and icons. The units are all rented through Summer 2023 at approximately $1100-$1350 and are among the lowest priced and best located condos in the UT area.
The Nelly Condominiums
___________
12 unit project built in 1983 nestled in price Central Austin off North Loop, near Brentwood, and just north of the Triangle.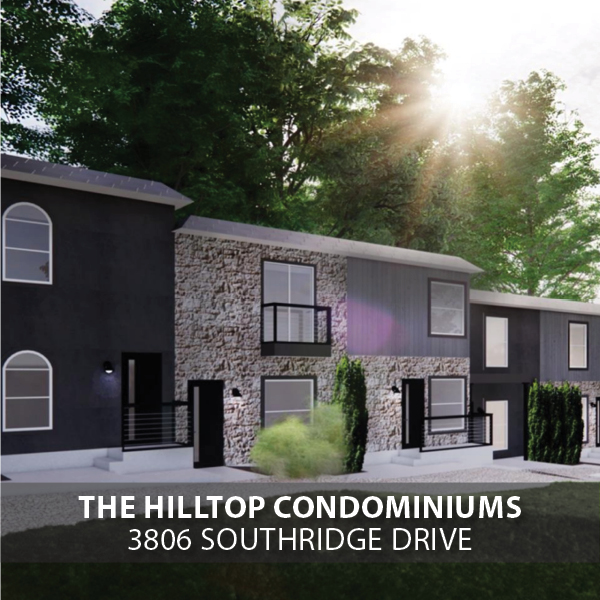 The Hilltop Condominiums
___________
Nestled in 78704, The Hilltop delivers modern living with seven fully remodeled 2 bed/1 bath townhomes and one oversized 1 bed/1 bath townhome perched on a topographically distinguished site. Each home brings distinctive character with designer finishes, stainless steel appliances, and private yards.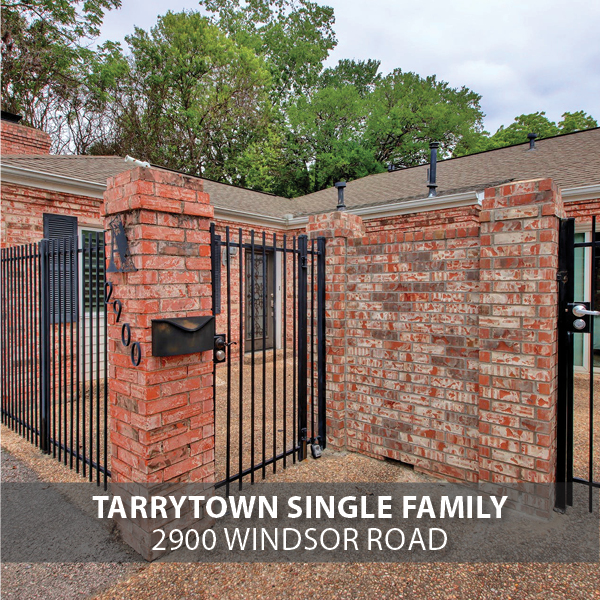 Tarrytown Single Family

___________
Nestled in Prime Tarrytown on a large corner lot, this stunning ranch style home will be suited for entertainers and Austin lovers alike.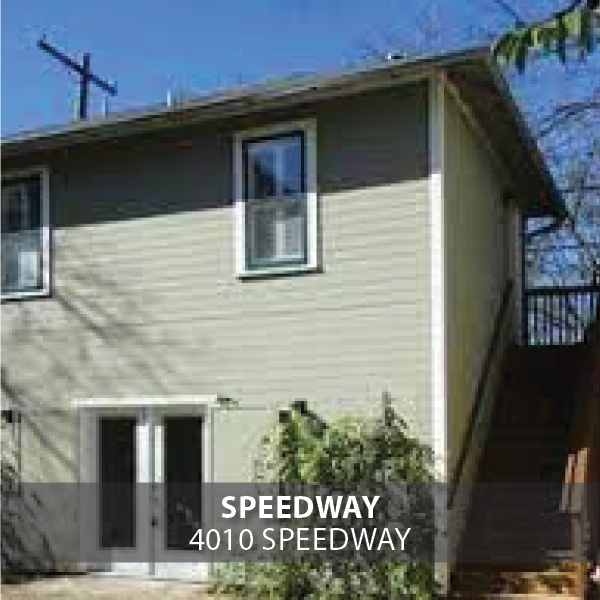 Speedway

___________
This small apartment complex is located in the Hyde Park neighborhood. Close to UT, shopping, and dining.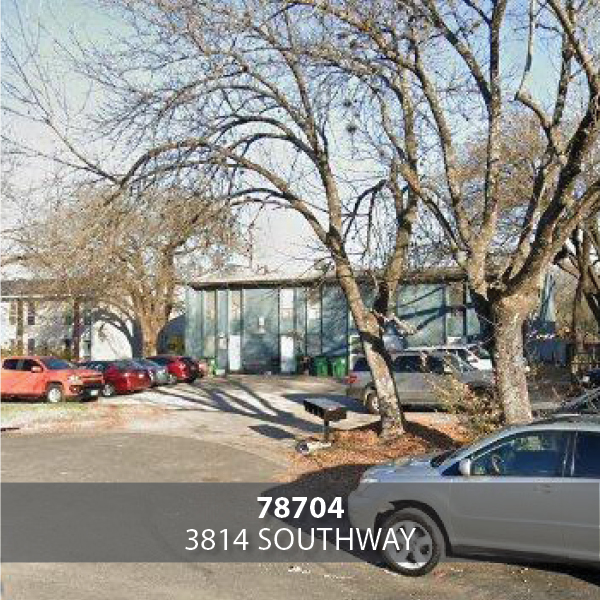 Southway

___________
Quaint value add four-plex in 78704.
The Colonial Arms

___________
This part of Downtown Austin is considered the "Beverly Hills" of Austin; the Governor's Mansion used to be 3 blocks East, while Deans of The University of Texas, Head Coaches, Doctors, Lawyers, and various prominent Austin businesspeople own many the large Victorian style homes that litter this area.
SOLD OUT - SEE MLS FOR RESALES.
Keystone Condominiums

___________
Keystone Condominiums, located 4 blocks to The University of Texas in the heart of West Campus, offers fully remodeled one and two bedroom units.
SOLD OUT - SEE MLS FOR RESALES.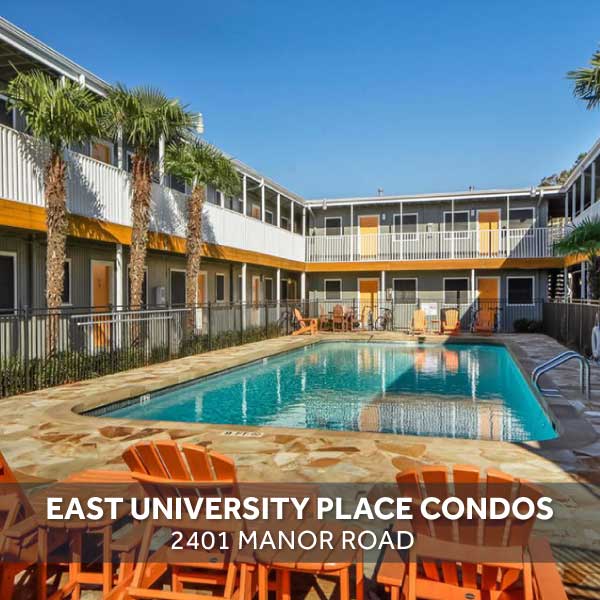 East University Place
___________
The East University Place Condominiums are where the perfect mix of location, amenities, quality, and affordability meet. This prime East Austin location offers four different floorplans for all types of budgets and lifestyles.
SOLD OUT - SEE MLS FOR RESALES.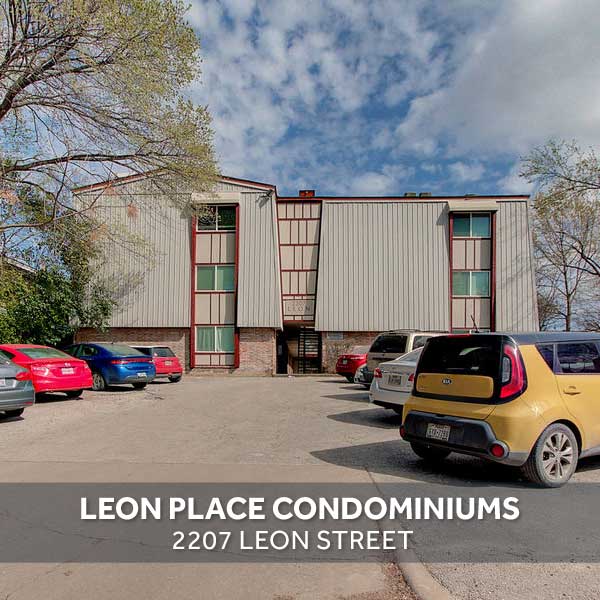 Leon Place Condominiums

___________
The Leon Place Condominums are located just 5 blocks to UT Campus and offer fully remodeled one and two bedroom floor plans suited for all types of students as well as folks looking to live in a Central location.
SOLD OUT - SEE MLS FOR RESALES.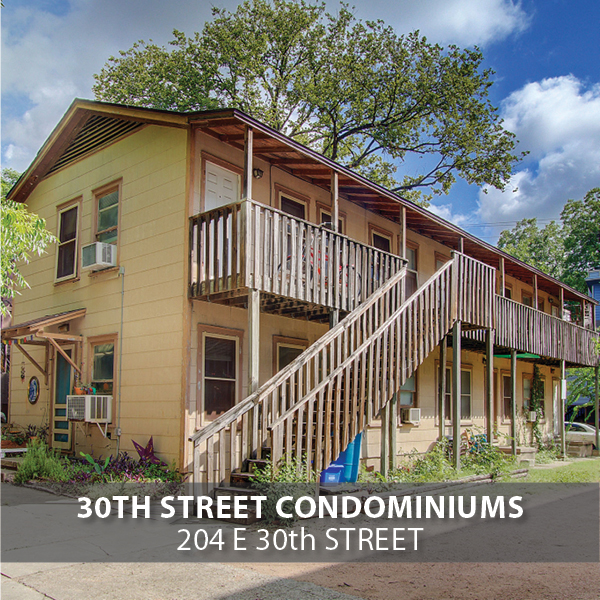 30th Street Condominiums

___________
The 30th Street Condominiums, located directly across from The University of Texas offers rare, fully remodeled one, two, and three bedroom units.
SOLD OUT - SEE MLS FOR RESALES.
---
2103 Nueces St.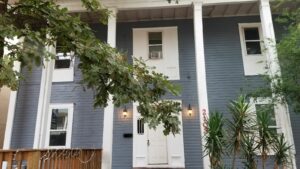 ---
Park Avenue Condominiums
306 E 30th
34 Units
The Gatsby
206 E 31st
Triplex